---
One of the first decisions house hunters must consider is exactly what type of home they wish to purchase. Should they buy a single-family home – or would a condo be a better alternative?
While there are pros and cons to both condos and houses, there are just as many misconceptions about the benefits of one over the other.
Here are just a few of the common myths many people hold about the great "condo vs. single-family home" debate:
Myth: Condos are more conveniently located.
Fact: That depends on what you're looking for. While it's true that buyers are likely to find more condos than single-family homes in the heart of a major city, buyers seeking a more suburban or rural feel may find more single-family home options from which to choose. And in terms of convenience, new homes in master-planned communities may be just as convenient as a condo. Because such communities are planned from the start, they are often deliberately located within easy commuting distance of major cities as well as shops, restaurants and other services.
Myth: Condos offer more amenities.
Fact: Not any more. Today's master-planned communities offer a wide range of amenities for residential homeowners. Residents of Nocatee, for example, not only enjoy access to the Splash Water Park – complete with multiple pools, water slides and a lazy river – but also a fitness center, athletic courts, and an extensive system of parks and trails along with thousands of acres of nature preserve.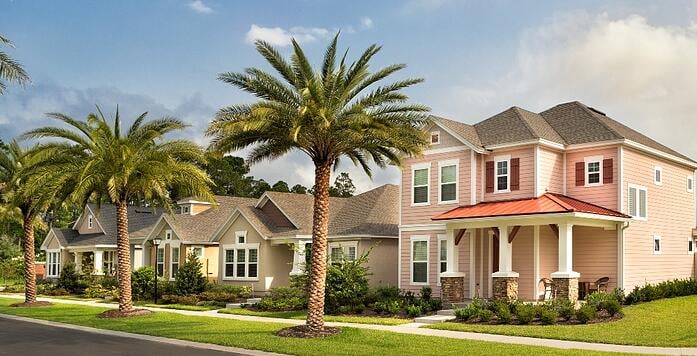 New Nocatee homes begin as low as the low $200's.
Myth: Condos are more affordable than single-family homes.
Fact: Not always. House hunters seeking a new home may find that they can buy a new single-family home for the same price as a condo with the same square footage or even more. Nocatee's Enclave at Town Center neighborhood, for example, offers a variety of coastal cottage-style homes priced from the low $200s.
Myth: Condos offer a way for first-time homebuyers to get into the real estate market.
Fact: Condos and single-family homes are both good options for first-time homebuyers. Like homes, condos come in a variety of styles and prices. And while it's true that condos can be a good option for first-time homebuyers, the availability of new, affordable single-family homes in the same price range means that first-time homebuyers who prefer the privacy of a home don't have to settle for a condo.
Myth: Condos are easier to sell.
Fact: Condos are more susceptible to market fluctuations. When the bottom fell out of the real estate market in 2008, it left behind countless condo developments that had only just begun selling units. The resulting glut of unsold properties made condo prices plummet. Real estate experts recommend, in fact, that buyers considering a condo thoroughly research the building first to find out how many units are occupied and whether current residents are up to date on their association payments – factors that indicate the financial health of the complex.
Statistically, single-family homes have been shown to be a better long-term financial investment.
---
For information on new homes available in Nocatee, visit the Nocatee Welcome Center or call 1-800-NOCATEE.