It's common knowledge that the first rule of real estate is "location, location, location." Whether it's a secluded log cabin nestled in the mountains or a chic downtown apartment in a major metropolis, new home buyers generally start their house hunting by deciding on a general geographical area in which to find the perfect home.
But what if that perfect home is located far from work?
As Americans spend more time traveling to and from their jobs, more new home buyers are making commuting time a key factor in their home search. A National Association of Realtors commuting survey found, in fact, that 79 percent of Americans say their top priority when finding a place to live is that it be no more than a 45-minute commute from their job. Among those who plan to buy a home in the next three years, 87 percent say a shorter commute is of "high importance."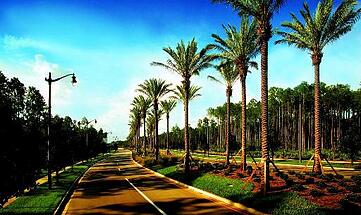 Less is more
The desire to spend less time commuting is even impacting what type of home buyers are seeking. In another commuting preference and walkability survey, the National Association of Realtors found that 57 percent of respondents would rather buy a home with a smaller yard and a shorter commute than a home with a much larger yard and longer commute. And to help prospective home buyers find those "sweet spot" properties with reasonable commutes, a number of websites and software applications now enable buyers to determine just how long they'll spend sitting in traffic to and from their new home.
Traffic data company Inrix, for example, offers a free smartphone app that calculates real-time traffic conditions between a starting and end point. The helpful app can therefore be used to estimate commuting times at various times during the day, so home buyers can estimate what their rush-hour commuting time will look like. Another site, travelmath.com, also offers a number of features that calculate drive times between destinations.
Building a better commute
When it comes to commuting, industry leaders say, master-planned communities have an edge over older, traditional cities where traffic patterns sprang up over time – often in confusing ways that create gridlock and exacerbate congestion. Because master-planned developers have the advantage of carefully siting and planning the community from the start, they say, these new home communities tend to enjoy easy highway access as well as better roadway infrastructure throughout the community itself.
"When we began building Nocatee, we completed the Nocatee Parkway connecting US1 to County Route 210 in 2010 – a decade ahead of schedule," says Roger O'Steen, chairman of The PARC Group, Nocatee's developer. "That enabled us to get all of the key infrastructure in place before residential construction began in full force, and made it easier for new home buyers to visit the area."
Since then, a number of additional transportation improvements have shortened the commuting times for Nocatee residents, he adds.
"Last year, the opening of the new 9B roadway reduced significantly the amount of time it takes Nocatee residents to reach the 295 beltway," says O'Steen, who notes that Nocatee is located approximately 30 minutes from both downtown Jacksonville and downtown St. Augustine. "And this year, a new flyover will connect Nocatee directly to I-95, decreasing commuting times even more."
---
To learn more about master-planned communities, download the free ebook "5 Benefits of Master-Planned Communities."