As much as we love life in the Sunshine State, sometimes a little break from the heat is required. That doesn't mean you can't enjoy the great outdoors from inside your home. Here are a few tips to help you become one with nature, no matter what the thermometer says.

Skylights
Skylights have been around for ages, and are a timeless way to let a little sunshine in. Just be sure to do your homework first, or your furniture and snoozing capabilities could be affected. HGTV offers the following tips when considering a skylight: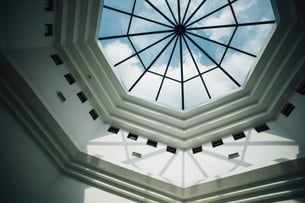 Placement - make sure you think about what time of day and how the sun will shine in on your roof. If the skylight on a sloping roof faces south, your room could receive lots of sun and the heat that goes along with it. North-facing skylights will have a soft light that lasts all day, but never the sun-splashed look that you may be going for.
Sun protection - the sun's ultraviolet rays can damage your cabinets and other fixtures. Glass that is tinted gray or bronze can help block the harmful effects of the sun's powerful rays.
Unique room requirements - you may want a skylight with built-in blinds for the bedroom for those lazy weekend mornings. But if your bathroom is getting the skylight, be sure it is properly ventilated to deal with excess moisture.
Size - many people underestimate the size of skylights they want, then regret not getting enough light. A good piece of advice is to go a smidge larger than what you think you'll need.
French and Patio Doors
These doors will be a focal point in your home, so consider the design carefully. It's easy to fall in love with something that may not work well in your home. Here are some attributes to factor in besides the aesthetics of the door (which are definitely important).
Maintenance - wooden doors give a more classic and traditional look that may complement your home, but vinyl could be a better option when it comes to easy cleanability and low maintenance—especially if you have children or a pool.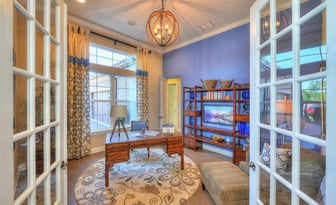 Efficiency - Builders like Glenn Layton Homes, David Weekley Homes, and Providence are focused on designing homes that are both efficient and innovative. Be sure to consider the types of glass that are used in your doors and windows—low-e (low-emissivity), high-performance, solar cooling or insulated glass—each with their own benefits and costs.
Space - how much space will your doors take up? Will they swing inwards or outwards? If they swing inward, you're losing floor space in your home. If they swing out, you are limited in what you can put around them, since you must always have a safe clearance. Sliding or bi-parting doors could be a space saving option, as they are in line on a track and don't require extra space on either side of them to pass through.
Wall of Windows
From one large bay or picture window sprawling set of floor-to-ceiling windows, a wall of windows in a great way to admire the view without breaking a sweat. Some things to consider when deciding whether a wall of windows is right for you include: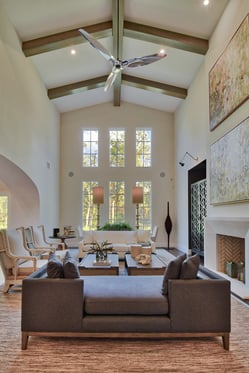 Energy efficiency - the sun's rays emit more heat than you think, and less-than-properly insulated glass can contribute to significant energy

loss

from your windows, in addition to letting that energy in. Be sure to look for glass that is insulated or rated as high-performance or low-e (see "efficiency" point above for additional information).
UV protection - if spending hours in front of a bay window with a book is your idea of paradise, be sure your windows include some form of UV

protection so that you can soak up the warmth of the sun, but not its ultraviolet rays.
Furniture arrangement - depending on how large you go with your wall of windows, you may lose some valuable real estate where your furniture used to be located. Think about how you'd rearrange if you lost several feet of wall space, as you won't want to obstruct those views.
Any of these home features can help you beat the heat by enjoying some indoor views this summer, while providing views that can be enjoyed all year long. The Nocatee community has twenty-two actively-selling neighborhoods offering floor-plans designed for enjoying and appreciating natural beauty.
---
To learn about new homes available in Nocatee, explore nocatee.com, call (904) 924-6863 or CLICK HERE to set up a virtual appointment with Nocatee's Welcome Center.