Nocatee residents and regular market attendees are getting ready for a "Comedy & Magic Show" themed Nocatee Farmers Market on Saturday (August 16th). From 10:00 a.m. until 2:00 p.m., the Nocatee Town Center will be buzzing with market activity. This laugh-packed event is sponsored by Whole Foods Jacksonville.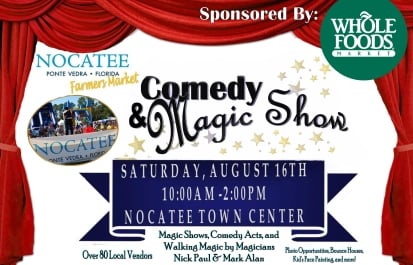 The day will include multiple performances from magicians Nick Paul and Mark Alan. Each performance is set to include magical feats and comedic entertainment. Along with these performances, there will be tons of photo opportunities, inflatable slides and bounce houses for the kids, as well as a centrally-located kids craft station. This month's kids craft station will also include free face-painting. As with every Nocatee Farmers Market, there will be more than eighty local vendors offering a wide variety of goods, including organic produce, honeys, hand-crafted jewelry, baked goods, herbs and spices, local restaurant favorites and more.
Also available at this market, packet pick-up for those already pre-registered for the upcoming Splash Dash Margarita Race at Nocatee event.
Bring the family to the Nocatee Town Center every third Saturday of the month. The monthly Nocatee Farmers Markets always feature a one-of-a-kind theme with entertainment and loads of unique vendors; making it an exciting day trip for any family in the Jacksonville or Ponte Vedra area.
To learn more about new homes available and community events, stop by the Nocatee Welcome Center or call 1-800-NOCATEE.