As the nest empties and retirement nears, many homeowners begin considering downsizing to a smaller house. From less maintenance to lower utility and tax costs, there are numerous benefits. Chief among them—helping seniors reduce mortgage debt.
Although the task may seem overwhelming at first, downsizing doesn't have to be a drag. Here are some tips to help shrink your home footprint along with the size of your mortgage:
1) Decide which type of neighborhood is right for you
Consider whether living in an age-restricted community makes sense for you. Master-planned communities like Nocatee have a wide range of neighborhoods that cater to downsizing seniors. Whether you're looking for an age-restricted community like the 55+ Del Webb Ponte Vedra, or simply want a smaller home payment, like the two-bedroom homes available at the Enclave at Town Center, you'll find a range of options designed with seniors in mind.
2) Factor in accessibility
No matter which home style or location you choose, accessibility should be a major feature in your new home. You'll want to be in this new house for a really long time, and will need to ensure you can get around with assistance if necessary. Features to watch for are a first-floor master bedroom, wide shower stalls and a wheelchair ramp (or space for one in the future).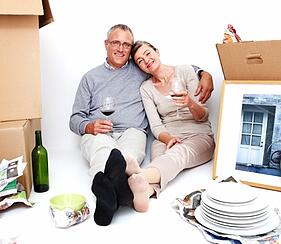 3) Take inventory of all your belongings
According to Lifehacker, you should take inventory of all belongings, then ask yourself which items you would replace if everything was lost. This is a quick way to distinguish the needs and must-haves from the wants.
Now that you have full inventory of your belongings, experts recommend labeling everything into one of three categories: keep, sell and donate. Since you established the keep items in the step above, now all that's left are the sell and donate buckets. Decluttering before a move, always ranks high on moving tips and advice from experts.
You can have a garage or estate sale, or list items on Craigslist or eBay. If you have high-value items, like antiques, sell them through a reputable dealer. Anything you can't sell that is still in good shape should join the donate pile. Many charities, including the Salvation Army, will come pick up larger items for free.
4) Look forward to the future
Picture yourself in your smaller space without the burdens of unwanted items, too much home to maintain and higher living costs. Whether you choose an active adult community or not, you can find amenities and activities that suit this new stage of your life.
For information on affordable new homes available in Nocatee, visit the Nocatee Welcome Center or call 1-800-NOCATEE.