Independence Day is undoubtedly one of the highlights of the summer season, and the First Coast does the Fourth of July up right, with spectacular celebrations that offer, food, fireworks, and good old-fashioned family fun.
Here are just a few of the red, white and blue celebrations happening this July 4 across Northeast Florida:
Jacksonville
The banks of the St. Johns River are the scene for the River City's July 4 festivities, as local residents enjoy a day of food, entertainment and of course, fireworks! Events will be occurring from 5 to 10 p.m. in a number of riverfront locations. The Shipyards on Bay St. for example, will feature live entertainment, water activities, Woody's BBQ and a variety of "Minute to Win It" type activities that the whole family can enjoy. Over on the south bank of the river, meanwhile, Friendship Fountain Park will offer hands-on activities sponsored by the Museum of Science and History (MOSH). And from 8 p.m. to 1 a.m., The Jacksonville Landing is the place to be. Live music by the Boogie Freaks will be punctuated at 9:45 p.m. by an impressive fireworks display over the St. Johns River. For more information, visit: http://buff.ly/1x6aBco.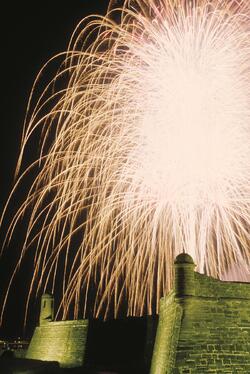 St. Augustine
America's Oldest City pulls out all the stops for Independence Day, with concerts, fireworks and after-hours dining and entertainment. The official celebration begins at 6 p.m., when the All Star Orchestra performs a patriotic concert on the Plaza de Constitution. At 9:30 p.m., a dazzling pyrotechnic display lights up Matanzas Bay, as fireworks explode over the Castillo de San Marcos, synchronized to patriotic music. Following the fireworks, many area restaurants and attractions stay open late to accommodate revelers.
According to the city website, July 4 attracts more cars to St. Augustine than any other event during the year. Before you go, visit the July 4 website for important information on road closings, parking and tips for avoiding post-fireworks traffic in the downtown area.
Amelia Island
Located just 45 minutes north of Ponte Vedra, Amelia Island celebrates the Fourth of July with a host of activities that keep with the island's "Old Florida" feel. Numerous events will be held across the island – from free public celebrations to parties and festivities charging admission. The fun begins at 10 a.m. with a free community celebration on Main Beach. In addition to music and food trucks, the event will feature a water slide, bounce houses, face painting and more until 2 p.m. Over on Centre St., a free community concert will be held from 6 to 8 p.m. Raffle drawings will be held throughout the concert, featuring prizes donated by local businesses. Be sure to bring your own chair!
The Nassau County Community Band will perform a free concert at 8 p.m. at the Fernandina Beach Welcome Center in the old Train Depot. Then the evening culminates with a bank at 9 p.m. with waterfront fireworks at the marina. A number of resorts and shops will also be hosting festivities.
For information on new homes for sale in Nocatee, visit the Nocatee Welcome Center or call 1-800-NOCATEE.