The Internet has revolutionized the way people buy and sell homes. Gone are the days when home buyers searched the newspaper for ads that intentionally omitted key information, such as street addresses, in order to drive house hunters to their local real estate office.
Today, the first place many people turn when they decide to buy a new home is online, where a simple click of a mouse produces thousands of searchable listings – complete with addresses, interior photos and even virtual tours.
So perhaps it was inevitable that the next evolution in house hunting would be real estate apps that put the power of the internet in the palm of your hand. Available for both iPhone and Android operating systems, these apps – many of them free – provide buyers looking for a new home with more details on every stage of the home-buying process. Here are just a few:
Find your New Home
Realtor.com: The app from the National Association of Realtors draws from its industry-standard Multiple Listing Service to provide home buyers with listings that can be searched in a variety of ways. Looking to buy a new home in a particular school district? The Realtor.com app can help you find homes for sale in that area. It also enables users to receive price change alerts on saved listings, and to add notes directly to listings that are of interest.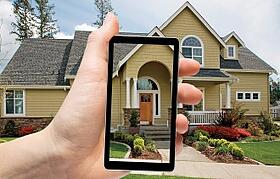 Homesnap: This real estate app adds a new twist to the home search process. Driving by a home you like? Simply snap a photo with your phone and receive detailed information on the listing. Homesnap also enables house hunters to find open houses, track recent sales and more.
Evaluate the Neighborhood
AroundMe:While not strictly a real estate app, AroundMe can help buyers learn moreabout a neighborhood they're considering. From banks and hospitals to movie theaters and coffee shops, AroundMe helps home buyers decide if the house they love is close enough to key services.
Nocatee: Available to current residents, prospective home-buyers and real estate professionals, this unique, community specific app comes with a free download. Along with built-in features, like a fun cam and an interactive map of the various Nocatee neighborhoods and the area, residents can opt into receive convenient community event reminders.
Finance your New Home
Zillow Mortgage: As with their website and home search apps, Zillow's mortgage app allows users to determine how much house they can afford. In addition to calculating monthly mortgage payments, the app lets buyers shop for special loan programs and receive custom rate quote from lenders.
Trulia Mortgage: Trulia also enables users to estimate their monthly payments, compare personalized loan quotes and calculate the home price they can afford.
---
For information on new homes available in Nocatee, visit the Nocatee Welcome Center or call 1-800-NOCATEE.