---
Nocatee has several exciting and new amenities, including Nocatee's Swim Club competition pool.
The state of the art competition pool opened summer 2014 and was designed only after consulting with those who know competition pools best – the swimmers. Vicky Burrows and her brother grew up swimming competitively in various states over the last eight years, and were two of several athletes who provided a unique perspective during the design process.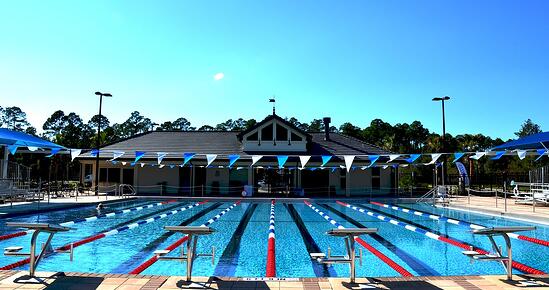 "The Nocatee Aquatics Center is a fun way for Nocatee families to bond. It will be great for children to develop new skills and friends in a safe environment," Vicky said. Vicky's tales of sunburned fans influenced the inclusion of shaded bleachers into the facility, a feature that could have easily been overlooked. "I'm excited to see the growing Nocatee community add an Aquatics Center to their already extensive line of first-class amenities!" she added.
Whether it has been a place for residents to get an early morning workout, for families to simply enjoy the spacious center, or serving as the home base for the Nocatee Swim Team–the competition pool has already added greatly to Nocatee's community benefits.
The heated, eight lane, 25-yard pool includes shaded bleachers, locker-room facilities, scoreboard, plenty of deck space, and a spacious event lawn.
---
For more information on the new amenities, contact the Nocatee Welcome Center or call 1-800-NOCATEE.