---
Noire Nail Bar and Crosswater Dental will be opening early 2017 at the Nocatee Town Center.
Both Noire Nail Bar and Crosswater Dental will be located directly south of MShack, on the eastern side of Crosswater Parkway. M Shack, Jacksonville's favorite locally-owned gourmet burger restaurant, is set to open August 2016.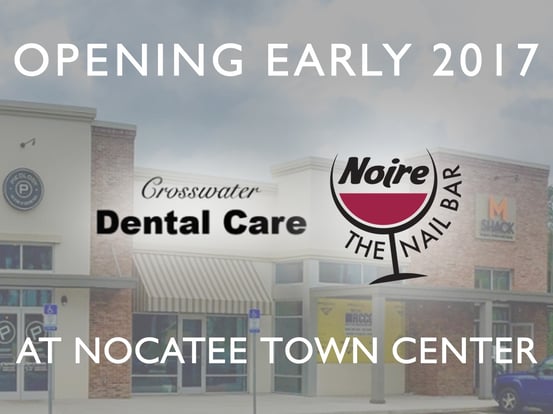 Noire services include manicures, pedicures, eyelash extensions, facials and body waxing. At Noire, they've given the typical manicure-pedicure their own finishing touch by including a beverage selection at their designated wine bar. Noire Nail Bar's owner has over 25 different salons and spas around the Southeast and Indiana.
West of Crosswater Parkway:
Regency Centers is beginning development of Phase III of its pedestrian- and EV-friendly Nocatee Town Center shopping center. The newest phase totals 27,555 square feet and includes the recently-announced Starbucks and Tijuana Flats, also opening early 2017. Two additional buildings will be located on the north side of the Baptist primary care and Watson Realty. All will be directly south of Northeast Floirda's largest Publix Supermarket. Construction for those centers will begin this fall, and new retailers joining the Nocatee Town Center will be announced in the coming months.
To view all current and coming-soon businesses in the heart of Nocatee, check out the Town Center Directory that features 30-plus different shops and services.
---
Want to stay in the loop with all things Nocatee? Sign up for community/development email updates by clicking here.