---
Americans love the Great Outdoors. According to a 2012 study by the Outdoor Industry Association, each year Americans spend $646 billion on outdoor recreation. Nearly $122 billion of that amount – or 19 percent – is spent on fishing and other forms of water recreation.
It's no surprise, therefore, that when searching for a new home, many buyers opt to live near the water. From oceans and lakes to rivers and streams, the presence of water nearby can not only add significantly to a home's real estate value, but also improve the health and well-being of its inhabitants. A study conducted in England even found that the closer people lived to the water, the healthier they were.
A location for recreation
Recognizing the desire of many homeowners to take part in water sports, many of today's master-planned communities are located in close proximity to water, offering residents opportunities for:
Swimming

Fishing

Kayaking

Paddle sports

Sailing
River Landing in Wallace, North Carolina, for example, is situated near the banks of the Northeast Cape Fear River, where fishing and canoeing are popular pastimes. Residents of Cinco Ranch in Texas, meanwhile, enjoy fishing and swimming at the community's private beach on South Lake.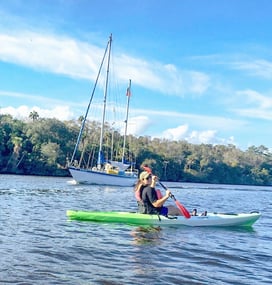 First Coast fun
Nocatee's proximity to numerous bodies of water – and all the recreational opportunities they provide – is a big draw for buyers seeking a new home community, the developer says.
"Residents say they love the fact that Nocatee is located just five miles from the Atlantic Ocean and Florida's famous beaches," says Richard Ray, president of The PARC Group. "We're also located close to both the St. John's River and the Intracoastal Waterway, which offer even more opportunities for water recreation."
In particular, Ray adds, Nocatee recently unveiled a new kayak and paddle sports launch that provides residents with a convenient location from which to explore the Intracoastal Waterway.
---
For more information on new homes in Nocatee's coastal community of neighborhoods, visit the Nocatee Welcome Center or call 1-800-NOCATEE.