In our last post, we began to outline some of the ways that buying a new construction home is vastly different than purchasing an existing one. Of course, being able to customize certain details to your liking allows you to really make your home your own. However, there are a few more steps and documents that you need to be aware of.
Here are a few more tips to help ensure a smooth new home construction purchase:
1. Ensure you have a clear and comprehensive contract. It only makes sense that a new construction home would require a bit more paperwork. Your builder's contract should cover everything from the scope of work to how any potential disputes will be resolved. Legal advice site Nolo.com lists the following as the most common areas of disputes.
Be sure that your contract is clearly defined in the following areas:
Scope of work - drawn plans, written specifics and other details describing some of the details of the new home to be constructed
Timing - outlines when the work begins, when it should end and what happens if there are delays
Payment - establishes a payment schedule, usually a deposit up front, then a final payment within so many days after substantial completion or the owner moving in
Changes to scope - changes will more than likely occur (and that is completely normal), so be sure to get them all in writing every time to avoid future conflict
Dispute resolution - some contracts include arbitration clauses in lieu of litigation. Carefully review this section of your contract to determine how any disputes will be handled
Attorneys' fees - include a clause where the recovery of your attorneys' fees is recouped if you win a favorable outcome of a dispute
Contractor default provision - your contract should leave little room for interpretation by carefully outlining what would constitute a breach of contract
Warranty - the coverage of a new home warranty will vary by builder. Be sure to carefully review yours with the builder and your agent. Ask about what's covered, for how long and what you would need to do to make a claim, if necessary. You can also look into purchasing additional coverage from a third-party resource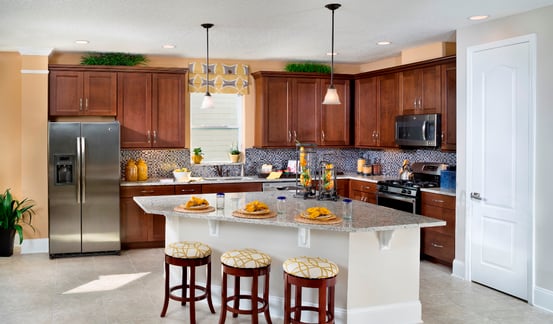 2. Don't skip the home inspections. There are several milestones for which you'll want to conduct in-person inspection walk-throughs (with your agent, if applicable). If you ask your agent or builder for inspector recommendations, get two or three references and conduct your own research.
So, how many home inspections should you conduct? HomeSafe Inspection in Atlanta, GA recommends getting homes checked at these three critical phases of construction:
Foundation - this inspection allows for review of the sewer and drain lines, waterproofing and other features
Framing/pre-drywall - after the wall frames go up and the electrical wires have been installed is an important time to identify any potential issues. Once the drywall is put onto the wall frames, it's virtually impossible for a homeowner to detect any potential costly issues
Final inspection - separate from the builder walk-through, this final inspection is where the home is 100 percent complete and only a few builder's punch list items should remain. This inspection covers structure, roof, exterior, interior, attic, foundation, decks, plumbing and fixtures, heating and cooling systems, electrical systems and others following the guidelines of the American Society of Home Inspectors. Some inspectors also use infrared thermal imaging at this stage to better detect any hot spots (caused by overheated electrical circuits or other factors that could cause fire), heat loss, moisture, leaks, missing or damaged insulation and more.
To learn more about new construction homes in Nocatee, visit nocatee.com or stop by the Nocatee Welcome Center.