It's no surprise that retirees look for many of the same things when choosing a retirement destination. According to a recent study by Nerdwallet, Jacksonville has many of those things, ranking 11th on the Best Urban Places to Retire list. Seventy-five large cities were evaluated on the following:
Presence of fellow retirees
Affordability
Weather
Walkability
Here's how Northeast Florida earned the 11th spot:
Presence of fellow retirees: Currently, 11.7 percent of Jacksonville residents are 65 or older. There are plenty of communities in the area, like Del Webb Ponte Vedra in Nocatee, that cater to the retiree crowd, providing a real sense of belonging during these golden years. Del Webb Ponte Vedra, for example, has a full-time activities coordinator who organizes regular social events and programs.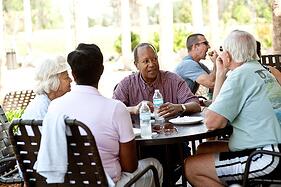 Affordability: Several factors were used to determine each city's affordability, including overall cost of living, doctor's visit costs, in-home health care services, assisted living, and other expenses related to assisting seniors. Of the 20 cities that made the list, Jacksonville had the lowest expense for a doctor's visit, at $69.40.
Weather: The study reviewed weather with the attitude of "the warmer the better." With average winter lows in the mid 40s, average summer highs in the mid 80s to low 90s and an annual average of 68.5 degrees, Jacksonville boasts a climate that appeals to snowbirds, sunbathers, retirees and everyone in between.
However, warm weather is one thing—proximity to countless ways to enjoy it is another. With 20 miles of beaches, Jacksonville offers an array of outdoor activities. From surfing and swimming to golf, Northeast Florida is a prime location for retirees looking to spend their free time in the sunand enjoying year-round water recreation, such as kayaking, fishing and boating.
Walkability: A key factor in urban living no matter your age, walkability made up 12.5 percent of the overall score. Although Jacksonville's Walk Score was only 25.5 (it is the largest U.S. city by land size), there are urban communities that offer the convenience of walking to nearby retail, parks, protected preserves, dog parks and restaurants.
In Nocatee's Town Center neighborhood, homes are a short walk away from shops, dining options, a grocery store and resort-style Splash Water Park. To keep up with growing demand, another urban community is being added to the Town Center—model homes in Addison Park are set to be completed later this fall.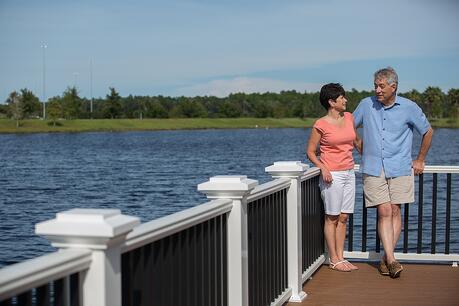 To learn more about Northeast Florida's top ranking active-adult community and new homes available in Nocatee, visit the Nocatee Welcome Center or call 1-800-NOCATEE.