As 2018 comes to an end, Nocatee is celebrating another year of significant growth. Let's take a moment to reflect on some of the most exciting additions, announcements, events that made this year so special.
New Neighborhoods
In 2018 these included Timberland Ridge, The Junction at Twenty Mile, The Settlement at Twenty Mile, and Tidewater at Nocatee Townhomes. New neighborhoods in Nocatee's Americana-themed Crosswater collection of neighborhoods — Freedom Landing, Heritage Trace and Liberty Cove. For a video-recap of the festive Crosswater at Nocatee Grand-Opening on February 10th, click HERE
Many neighborhoods sold out in 2018, including Addison Park at Town Center, The Crossing at Twenty Mile, The Island at Twenty Mile, The Pointe at Twenty Mile, and The Villas at Nocatee.
Amenities
One of the biggest moments of the 2018 year was the unveiling of Nocatee Spray Park renderings. Nocatee Spray Park will have interactive features for kids and adults, centered around Whale Harbor, a four-story water slide tower that will be the tallest water slide in Northeast Florida! The Spray Park will also include Serenity Bay, a resort-style beach environment with beach volleyball; Scuttle Cove, a smaller spray park for younger children; and Paradise Park playground. Blue Water Bar & Grill, a restaurant serving both food and drinks. Opening early 2019. To view all Nocatee Spray Park renderings, click HERE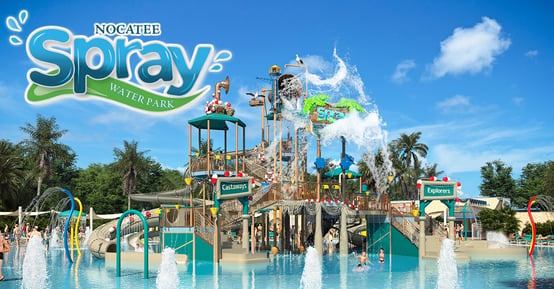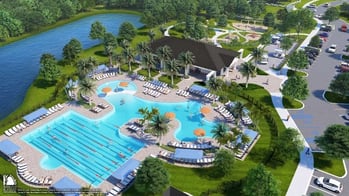 Construction on Crosswater Park commenced in 2018. The Americana-themed amenity, open to all Nocatee residents, will feature a pool, lap lanes, volleyball and much more. Slated to open Spring 2020.
Other exciting new amenity announcements included the School Yard and the Nocatee Landing. For details on both of these coming-soon amenities, click HERE.
Nocatee Town Center
There were several new businesses that opened in the Nocatee Town Center this year! A few of the most notable: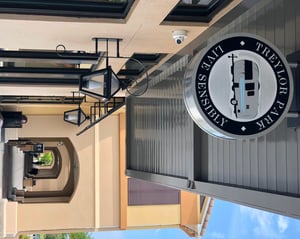 South Kitchen & Spirits opened in May 2018. The restaurant has a diverse menu of southern classics and American standards. Treylor Park, known for its vintage-chic space with outdoor seating and re-imagined comfort eats and drinks, also opened its doors this summer. Residents never have to get in the car to access new dining and shopping.
Nocatee's Town Square Office Park, directly south of Publix, saw major changes as construction broke ground for Lazzara Orthodontics and Barnhorst Eye Associate this past spring. Both are slated to open early 2019.
Over the summer, construction broke ground on Forever Vets Animal Hospital and Spavia Day Spa. Located behind M Shack and Crosswater Dental, on the eastern side of Crosswater Parkway, both are slated to open early 2019.
New Health Care
Three new healthcare options were announced for Nocatee in 2018. The three options include: Baptist Health Medical Campus, Flagler Health Village, and CareSpot Urgent Care.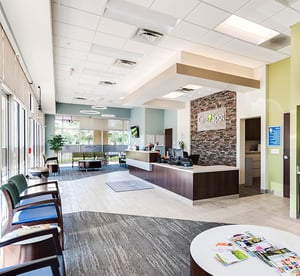 Baptist Health Medical Campus will break ground in Nocatee Town Center in 2018. The current Baptist Primary Care office in Nocatee will relocate the medical campus when it opens. Flagler Health Village is slated to open in Nocatee in summer of 2020. The village will include dedicated green space for healthy lifestyle & arts activities, a community education and partnership center, family practice, pediatrics, specialty care and women's health services. CareSpot Urgent Care will open in early 2020 and be the 15th CareSpot location affiliated with Baptist Health. The urgent care physicality will be open extended hours- including evenings and holidays to better serve the Nocatee community.
The PARC Group would like to thank all of its Nocatee residents, builders, and supportive real estate agents for helping Nocatee achieve another big year. We look forward to accomplishing even more in 2019!
---
To learn more about the master-planned Nocatee community, explore www.nocatee.com or stop by the Nocatee Welcome Center.
**Kick off 2019 with festive celebration and grand-opening for The Colony at Twenty Mile on January 20, 2019. For more information, click HERE**