---
As 2015 winds down, Nocatee is celebrating another record-breaking year with home sales 21 percent higher than 2014. In addition to welcoming many new families into the Nocatee family, it has been a big year for several reasons:
Community growth
Nocatee continues to add new communities. In 2015 these included The Palms, Artisan Lakes, Siena and Addison Park. We also added new neighborhoods to the historically significant Twenty Mile community — Twenty Mile Village, The Crossing, The Pointe and The Island. With huge old canopies and rich preserved lands, this community has plenty of old-Florida character.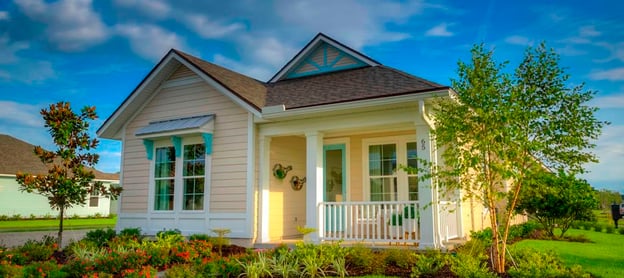 In addition, many of our communities sold out (or nearly sold out) in 2015, including Enclave, Willowcove and Greenleaf Village.
Amenities, amenities, amenities
We kicked off summer by opening Cypress Park, a resident amenity center with various aquatic and park features, including a shallow-entry family pool, sports field, dog park, clubhouse, playground, event lawn and surrounding trails.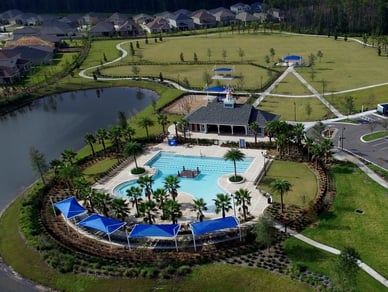 After two years of planning and building, Nocatee's Fire Station 18 opened in May. Equipped with an ambulance, the station's placement inside the community lowers residents' home-insurance rates.
Construction plans were unveiled for two new faith-based facilities, enabling residents to worship close to home. The St. John Paul II Catholic Mission is slated to open spring 2016, and Waypoint Church, the second congregation of Ponte Vedra Presbyterian Church, will open September 2016.
To balance Twenty Mile's historic charm with modern must-haves, we unveiled plans for Twenty Mile Park. Opening in early 2016, the amenity center will include a shallow-entry family pool, Waggin' Tails dog park, playground, event lawn and athletic fields.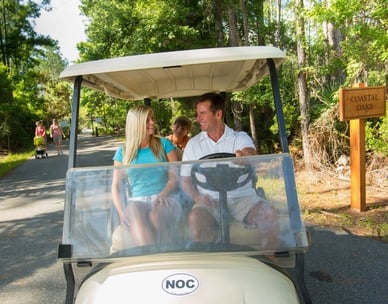 Our most exciting amenity expansion of the year was the Greenway Trails expansion announcement. This included two major paths allowing direct access to the Town Center and surrounding amenities to the following communities: Del Webb Ponte Vedra, Coastal Oaks, Cypress Trails, Brookwood, Kelly Pointe, The Palms, Twenty Mile and The Villas. The project will be complete in summer 2016. Nocatee's extensive trail network gives residents access to the best of North Florida's natural landscape, as well as the added convenience of taking a golf cart to the grocery store.
Continued Town Center growth
The Town Center will soon have breakfast, lunch, dinner and post-dinner drinks covered. In 2015 we welcomed Dunkin' Donuts, M Shack, The Loop, Pieology Pizzeria and Coastal Wine Market. Other additions included Big Fish Yoga, Trompe L'oeil Salon, Verizon, UPS, RE/MAX Unlimited and Gate.
A place to live and work
We completed construction on two of the four office buildings in the Town Plaza Offices, a 30,000-square-foot office condominium. The buildings are quickly filling up with businesses, including software company Brillium Inc., Edward Jones, Ponte Vedra Pediatric Dentistry and Orthodontics, Ponte Vedra Plastic Surgery and therapy provider Psych Ed Connection.
Right outside of Town Center, International Management Company broke ground on a multi-tenant office building in October of this year. The new office building will be three stories and 62,751 square feet.
Industry accolades
While nothing is as important as providing residents with the ideal lifestyle, it's also nice to be recognized within the industry. In addition to being ranked the nation's third top-selling master-planned community by real estate advisory firm RCLCO for the second year in a row, we were also named "Master-Planned Community of the Year" by the Southeast Building Conference, and took home two Laurel Awards for "Developer of the Year" and "Marketing Director of the Year."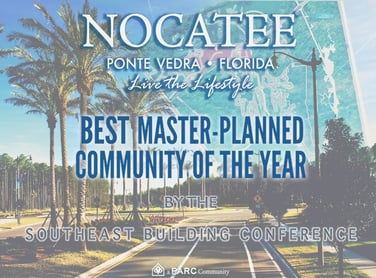 Resources for Realtors, residents and home-buyers
Providing our residents, Realtors and buyers with the information they want, when they want it, is also a priority. This year, we added a "Find Your Home" feature to nocatee.com, where shoppers can view floor plans online, and created a personalized viewing experience for returning visitors. In addition, we offered e-books on topics from area schools to resident stories and comprehensive guides for Northeast Florida and its many neighborhoods.
We'd like to thank all of our residents, builders and team members for helping us achieve another big year. We look forward to accomplishing even more in 2016.
---